Documenting the Egyptian uprising: #IamJan25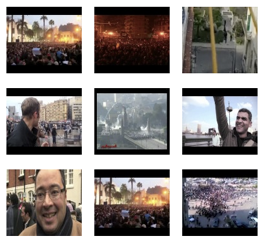 One image can tell a powerful story.  But what about thousands of images, each documenting the same event from the perspective of individual eyewitnesses?
The website Iamjan25.com collects images and videos captured by demonstrators in Tahrir Square, where hundreds of thousands of Egyptians gathered on 25 January 2011 to protest against the regime of then-president Hosni Mubarak. 
The website's design and navigation are not elaborate. It was not created using Flash. Most of the images and videos are grainy and unedited, shot on mobile phones. There's no information on the website about who created it. It's clear that the motivation behind Iamjan25.com is simply to record this significant piece of history from the point of view of the people on the ground. 
Containing over 7000 videos and pictures, the website is the largest online archive of its kind. As an aggregation of eyewitness accounts, it forms a huge body of evidence and provides an alternative to the more popular stories offered up by the press, academics and NGOs all weighing in on just what exactly happened in Tahrir Square, and how to understand it all. Online archives like this can, however, be overlooked on the web - barely promoted, their value unrecognised. Iamjan25 needs someone with a lot of patience and a keen editorial eye to sift through it and put together a story – as was done, for example, in the acclaimed 2010 film 'the Green Wave', which reconstructs events around the 2009 Iranian Revolution using citizen-produced media, including tweets, blogs, and mobile phone videos and images.
18daysinegypt, currently in development, looks to achieve this. Produced by Jigar Mehta & Yasmin Elayat,  it aims to document the Egyptian uprisings through personal stories and social media. Interviewed by the Stanford University Knight Fellows' blog, Mehta says that while watching Al Jazeera's live feed of the events, he noticed all the mobile phones being used and realised just how much documentation was happening on the ground. "It occurred to me that there were a lot of breadcrumbs scattered over the last 18 days," he says. "I wondered if there were a way for us to go in and tell a story with these breadcrumbs left behind." 
FURTHER READING
"Time, Space and Digital Continuums: Digital Video Politics", by Namita Aavriti Malhotra in Book Three of 'Digital Alternatives with a Cause'.
VIDEO
Interview with Al Samadi, director of Green Wave.
Trailer for 18daysinegypt project.