Map Kibera, Kenya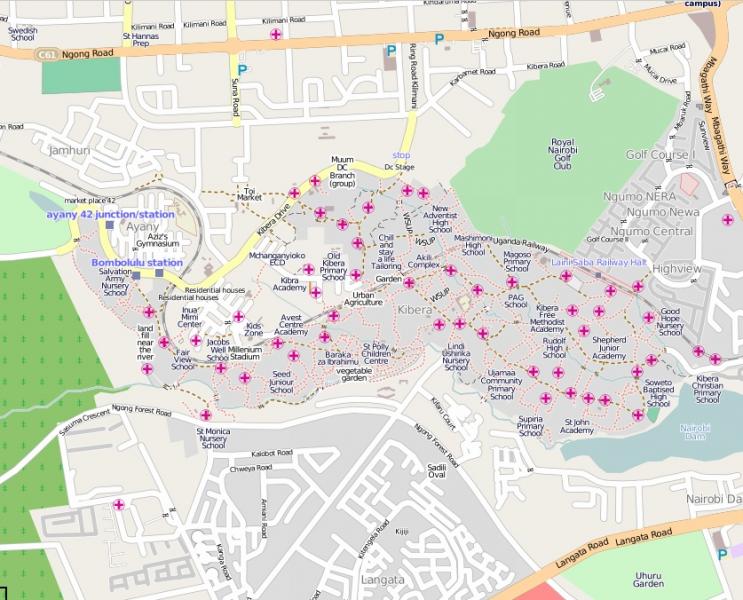 630 acre; that is the size of Kibera, a neighbourhood of Nairobi which is usually featured as a blank spot or a forest on official maps. With no street names or documented infrastructure, it is considered to be Africa's largest slum.
While the area is the subject of many surveys and much research by government, NGOs and research institutes in most cases the data collected does not reach Kenya's citizens or it is difficult to access. 
In November 2009, young Kiberans created the first free and open digital map of their own community. 
The
Map Kibera
project, started by Erica Hagen and Mike Maron, worked with 13 local participants to enter data collected using hand-held GPS devices into 
OpenStreetMap
and create a map of their neighbourhood. Participants identified four categories to map: health, security, education, and water/sanitation. They also tracked  "points of interest" which included every water point and toilet as well as clinics, pharmacies, schools, churches, mosques and NGO offices.
Hagen
explains
the value of citizen mapping: "The government would never be able to collect this kind of information at the level of detail that someone who actually lives there could collect it. That's part of the point: we think the people who live there know better what's going on and what's important, and they should be able to tell their own stories." Maron
adds
,"This isn't just about access to information, it's about creating that information itself."
Participant and Editor of Kibera Journal, Douglas Nmale
speaks
about the experience: "When I saw the map for the first time, I was proud," he said. "This has not been done by other people. It has been done by me."   
The creation of the maps has helped the community to solve and combat many issues. Citizens and NGOs have been able to use the data to lobby for resources and negotiate with the police to improve security in certain areas. By assessing and gathering evidence about their neighbourhood themselves, residents could hold the government, businesses, and anti-poverty projects accountable for the work they were supposed to be doing. 
FURTHER READING
PDF