Occupy George: remixed dollar bills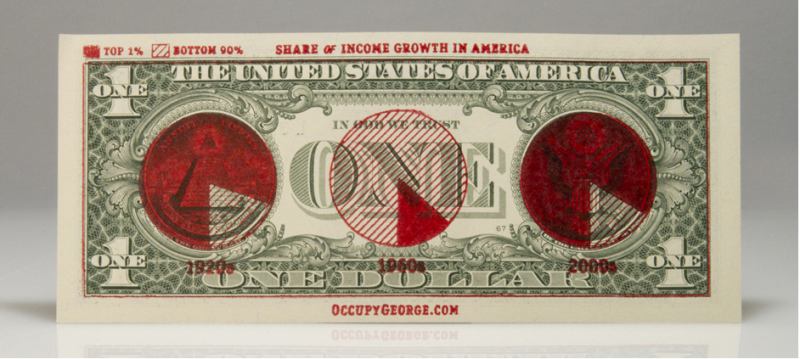 On September 17, 2011, a group of protesters led by the culture jamming magazine Adbusters camped out in Zuccotti Park, at the centre of New York's financial district. They called themselves Occupy Wall Street. Within a few weeks similar camps had sprung up across the USA, drawing in thousands of participants. With the slogan 'We are the 99 %', their complaint was against unfair wealth distribution and corporate power in the country. Soon the movement spread to Europe too.
The idea of occupying space extended beyond the physical. We Are the 99% blogged photos of people holding signs explaining how the financial situation in the US affected them; Free Art and Technology offered animated gifs to add to your website, and Occupy the Internet and the Occupy Poster Project provided screen-printed posters that protesters could download and stick around.
Occupy George – also known as Ivan Cash and Andy Dao – wanted to join the movement and help communicate the facts about economic inequality to the country. Inspired by the idea of using banknotes to release ideas and messages into circulation, they exploited a loophole in US legislation that permits marking money, as long as it is not entirely defaced. They created simple infographic stamps visualising data on the wealth distribution in the country.
Setting out to get as many bills as possible circulating in California, the team stamped dollar bills and did exchanges for fresh ones at the Occupy Oakland camp. To extend their reach even further, they invited people to download the template from their website to print at home and spread online.
In an interview with Fast Company, Ivan from Occupy George said "We feel like just the hard solid facts on the economic disparity in America speak for themselves so brilliantly … We feel like it would be really tough to not be moved to take action or support the movement if you were confronted with them."
On why they used infographics as their medium, they said, "We wanted something simple that people would understand and something that was official so people would take notice". By inserting these evidence-laden dollar bills into the public realm, Occupy George offered the 99% a means to subvert the symbolic power of money and share their story with the country.
The same team are behind Deprofiler, a campaign parodying racial and ethnic profiling in the implementation of Arizona's immigration law. The Deprofiler is a 'friendly white person's mask' which you can download off the internet, print and wear in order to "remove reasonable suspicion" and avoid being stopped and questioned by police.
FURTHER READING
Signs of Dissent: Help us Read Occupy Wall Street, The Atlantic, 2011